Hose VOE14632077 for Volvo excavator ECR88D(S/N 210001-215000) excavator
Part Name: VOE14632077 Hose
KDSORT: 104
UE: U
ANT1: 1
Hose Recipe Asmoverall Length MM: 2550
Hose Recipe Asmoverall Length Inch: 100.39
Hose Recipe Asmoverall Length ToL MM: +/- 1%
Hose Recipe Asmoverall Length ToL inch: +/- 1%
Hose Recipe Fitting OrIentationtol Tol Degrees: +/- 5 degrees
Hose Recipe Special In Structions: Use 2 clamps
Hose Recipe Hydraulic Hose Standard: EN (474-1) (5.18.13 Hydraulic Hosees)
Hose Recipe Safety Standard: EN 982-1996
Hose Recipe Assembly Instruction Reference: 1076838
Hose Recipe Version: 2
Hose Recipe Status: A
Hose Recipe Protector Length MM: 800
Hose Recipe Protector Length INCH: 31.50
Hose Recipe Vendor: MANULI
Hose Recipe Grade: 1
Hose Part Hose Description: Rockmaster/4SP
Hose Part Hose Size DN: 12
Hose Part Hose Size Inch: 1/2″
Hose Part Hose Dash: -08
Hose Part Hose Pressure Class MPA: 42.0
Hose Part Hose Pressure Class PSI: 6090
Hose Part Hose Pressure Class BAR: 420
Hose Part Hose Standard ISO: ISO 3862 4SP
Hose Part Hose Standard SAE: Volvo 102
Hose Part Hose Standard EN: EN 856 4SP
Hose Part Hose Standard MSHA: MSHA 2G-IC-126C/8-1
Hose Part Hose Structure: Wire spiralled four layer
Hose Part Hose Remark: Abrasion, weather and heat resistance
Hose Part Hose Outer Diameter MM: 25
Hose Part Hose Outer Diameter INCH: 0.98
Hose Part Cancelled: N
Hose Part Vendor: MANULI
Hose Part Grade: 1
Hose Part In Program: Y
Catalog: 20670/916/900
Looking for Part NO.VOE14632077?
We offer Kubota / MITSUBISHI / YANMAR / Kobelco / Deutz / CUMMINS spare parts. You can get this part with wholesale price start from 1 pcs. Contact us get the best price.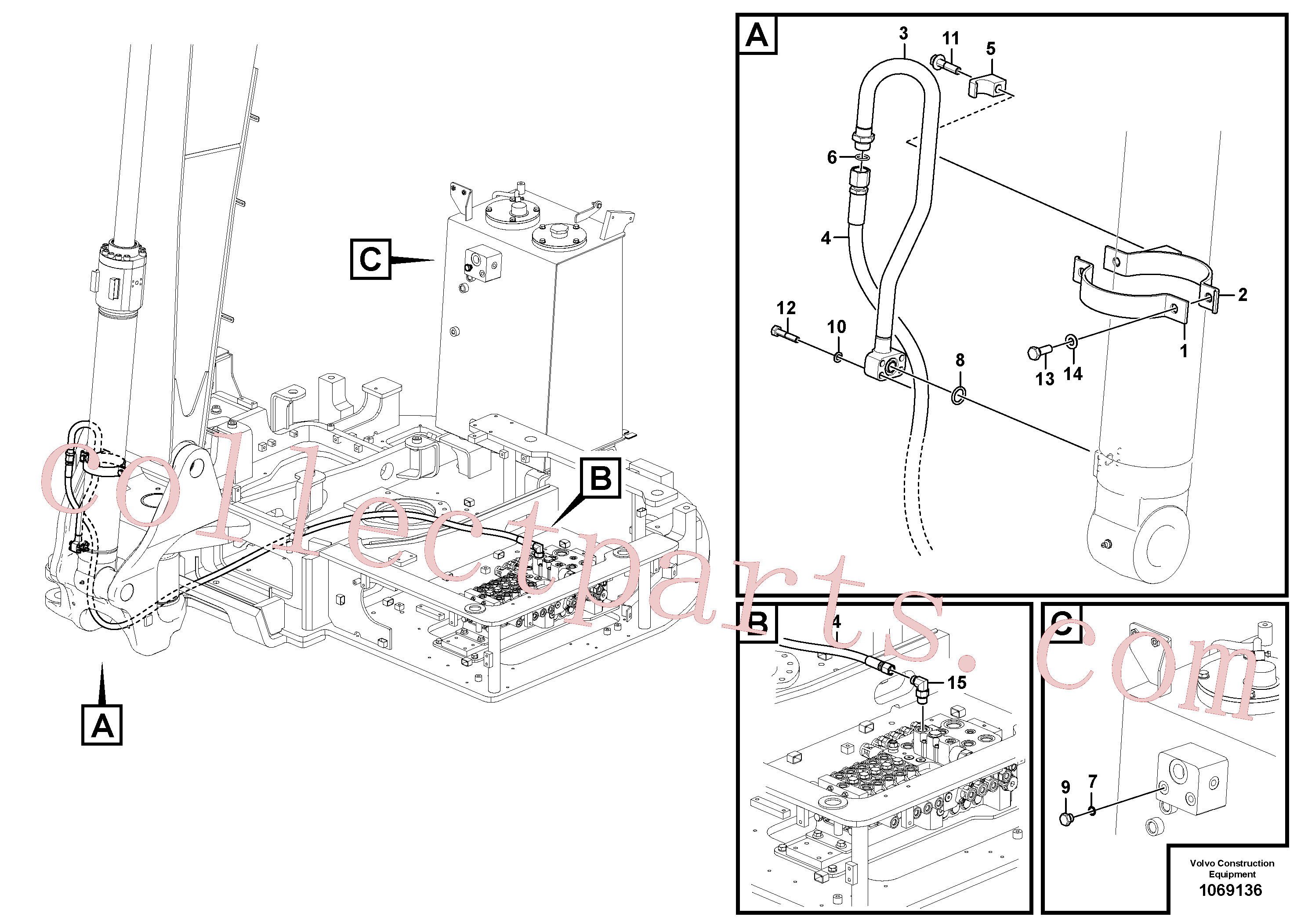 Volvo VOE14632077 Hose suitable for 1069136 Working hydraulic, boom cylinder assembly.
Volvo VOE14632077(c.1069136) Hose

Ref: 1069136 / 4 / 1

VOE8291476 / U Boom cylinder leak without Hose rupture

20670/916/900
Excavator Aftermarket Parts
offer Kobelco / Deutz / Komatsu / SUMITOMO / CUMMINS / KATO aftermarket parts. MOQ 1 pcs is available! Volvo Part NO.VOE14632077 is on sale now!
Part NO. VOE14632077 for Volvo ECR88D(S/N 210001-215000)
EXCAVATOR VOLVO ECR88D
BASIC MACHINE
PROD NO 8291417, S/N 210001- 215000
CAB
PROD NO. 8291430
PROD NO. 8293042
ENGINE
Part no. 14617298, 8291418
Part no. 14646505, 8293037
Excavator Aftermarket Parts
have our own production/R&D factory, high quality and low price are our advantages.
With more than 10 years of machinery industry experience, we have received praise from all over the world (customer / reseller / manufacturers / distributors).
Original VOE14632077 included regular invoice.
Used/Second hand VOE14632077 provide 3-12 months quality guarantee .
All Taxes included, no more hidden fee.
Choose us, get permanent online support, our Golden Engineers are ready.
We can freight and containerize you cargo as well as arrange overseas shipping to any port in the world! Profession, Sincerity, Brand are our business principles, we devote ourselves to set up a sound sales network , warmly welcome the clients from all the world to contact us for any inquiry, we will try our efforts to provide professional service to satisfy you.